Playboy perfume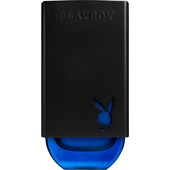 PlayboyMake The Cover For Him Eau de Toilette Spray
BP: £373.00* / 1 l
5/5 AggregateRating
Playboy perfume: enticing fragrances for her and him
The American magazine Playboy is known for its legendary erotic nude photos. The first issue appeared in 1953, featuring a famous nude shot of Marilyn Monroe. With her seductive allure and unbeatable sex appeal, she became the pin-up girl that fuelled the fantasies of many a man. The magazine was a huge success. Centred around the extravagant lifestyle of founder Hugh Hefner, an empire was born. Beautiful women, fast cars, grand houses and exhilarating parities made him the very definition of the word playboy.
Alongside the magazine itself, the famous bunny logo was soon decorating clothing, bed linen, accessories and jewellery. Seductive Playboy fragrances beguile you with tantalising, captivating composition. They are instantly recognisable and convey a touch of eroticism. Numerous fragrance and skin care products complement the cosmetics series from Playboy, including shower gel, body mist, deodorant and aftershave lotions.
Eau de Toilette by Playboy: a touch of seduction
The Playboy brand is unique in that it stands for perfume that seduces the senses with a subtle erotic touch without being overpowering. Inspired by a glamorous jet-set lifestyle with wild parties, luxury cars and endless possibilities. The Playboy fragrance for men is aimed at men that do not bow to conventions, are true to themselves and are always on the lookout for adventure. Graced with an expressive personality, they want fragrances with a multi-faceted mix compositions, ranging from aquatic and fresh to juicy and spicy, which reflect their passion, masculinity and strength.
Playboy perfume unites sweet, powdery notes, floral accents and wooden essences to create a modern composition. Nuances of fruity apple, sweet rhubarb and lavender, paired with spicy notes of bergamot, warm woods and rum deliver an extraordinary bouquet that sends women wild. Fragrance compositions with sensual cashmeran, bergamot, spicy cinnamon and exotic tonka bean are wonderfully masculine. Refined with austere cedar wood, rough leather notes and seductive vanilla, the Eau de Toilette by Playboy will make sparks fly.
Meanwhile, the Playboy fragrances for women have also mastered the art of seduction. One of the cult brand's popular fragrance compositions is a refreshing blast of blackcurrant, green mint and passion flower. A touch of tonka bean, patchouli and white lily gives the perfume a seductive note. It is perfect for modern, confident women that like to celebrate their femininity.
A Eau de Toilette by Playboy with fresh, fruity notes of grapefruit, mandarin and pink pepper, joined by elegant aromas of fragrant olive (osmanthus) and liquorice, add a touch of sex appeal. Crowned with creamy, warm accents of sandalwood, tonka bean, vanilla and patchouli, it will turn you into a true seductress.
The beguiling Playboy perfume is complemented by a diverse cosmetics line
To go hand in hand with the Playboy fragrances, parfumdreams offers numerous cosmetics products for you to choose from. They underline your favourite fragrance while at the same time unfurling their skin care properties.
Fragrances, deodorants, aftershaves and shower gels are designed to provide long-lasting fragrance. At the same time, the harmoniously coordinated ingredients complement each other perfectly. Wither used individually or in combination with one another, they will give you a sensual scent that leaves a lasting impression.
Shop Playboy perfume: explore the seductive selection at parfumdreams
At parfumdreams, you will find a large range of trendy and classic Playboy fragrances for men and women. In addition, the online shop also offers delicately scented shower gels, a light body mist and long-lasting deodorants. After a wet shave, men need a refreshing aftershave lotion that soothes and cares for the skin.