Sea salt spray
9 article(s)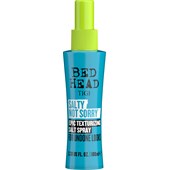 TIGIStyling & Finish Salty Not Sorry Salt Spray
£9.16
/ 100 ml
BP: £91.60* / 1 l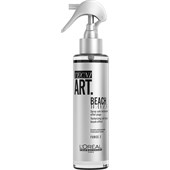 L'Oréal Professionnel ParisTecni.ART Beach Waves
£16.41
/ 150 ml
BP: £109.40* / 1 l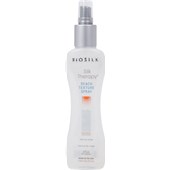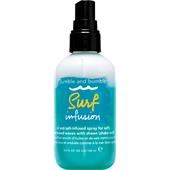 Bumble and bumbleStructure & Halt Surf Infusion
£23.00
/ 100 ml
BP: £230.00* / 1 l
5/5 AggregateRating
What is sea salt spray, exactly?
Natural beach waves and perfectly waved hair are possible even without a visit to the beach thanks to sea salt spray. The sea salt spray is easy to use and makes your hair more manageable so you can style it perfectly.
As sea salt draws moisture from the hair, Epsom salts are included in the formulas of the various sea salt sprays for the hair. The effect is the same – with less moisture loss. In addition, some sea salt sprays contain UV protection so the hair is shielded well from the sun.
These styles are possible with sea salt spray
A sea salt spray makes your hair more manageable and creates a wavy texture. So you can style your hair better than when it's in an untreated state:
Beach waves: To look like you've just come from a relaxed day at the beach, spray the sea salt spray onto wet hair after washing. Finally, you just need to run your fingers roughly through your hair and let it air-dry. The spray gives you volume and a natural look with light waves.
More texture: If your hair won't lie how you want it to or is constantly escaping from your ponytail, you can give it a hand with sea salt spray. Apply the spray to dry hair and massage it in.
Wild curls: If your hair is naturally wavy or curly, you can define your curls with the spray. Simply apply the sea salt spray to the hair, which is best if it is still wet, and massage it gently in. Finally, grab a rollers, blow dry and then remove the curlers. Your curls are done.
Tip: If you want to create curls with the curling wand, use the wand first, then let the hair cool off and finally give the curls a natural texture with the sea salt spray.
Tips for using sea salt spray
When using sea salt spray in the hair, you need to pay attention to a few things to achieve a successful result. For example, you should not spray too much in the same place, or the hair will quickly become greasy. You should also massage the spray into the lengths and tips rather than spraying it onto the roots. There is also a danger here of creating a greasy look with hair that is weighed-down and sticky.
Sugar spray instead of sea salt spray?
By now, there are not only sea salt sprays for hair available, but also sugar sprays. In principle, these work in a similar way – the sugar and water combination in the spray is intended to give the hair more texture and make it more manageable so you can create a natural look. The sugar is indeed stickier, so you need to be more cautious with the amount you use, but basically it is a good alternative to salt spray, especially if the salt spray is made with real salt and not with Epsom salts.
Check out sea salt sprays and many more hairstyling products at parfumdreams. Discover the wide range at great prices for yourself and have your favourite products delivered quickly and easily to your door.