Colour corrector
7 article(s)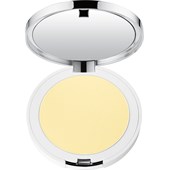 CliniquePowder Redness Solution Instant Relief Mineral Pressed Powder
£25.50
/ 1 pcs.
BP: £25.50* / 1 pcs.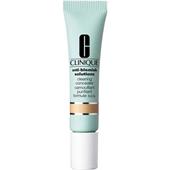 CliniqueFor impure skin Anti-Blemish Solutions Clearing Concealer
£17.38
/ 1 pcs.
BP: £17.38* / 1 pcs.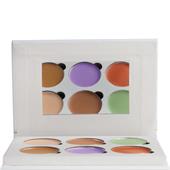 4,5/5 AggregateRating
Colour corrector – a small beauty helper with a big impact
Nothing beats a flawless look. But especially in the morning our skin can often look creased, red or have dark circles around the eyes. With a colour corrector, these traces of a bad night's sleep are a thing of the past. With this product, you can utilise the colour circle to create an even complexion as if by magic.
How does colour corrector work?
Alongside classic concealer, there is also a variation withcolour corrector to combat dark circles. This liquid or creamy product has a yellow or orange tint. This is no coincidence and has a good reason: opposing colours in the colour circle neutralise one another. This simple physical principle ensures that your skin looks even and balanced. Just bear in mind the following rules of thumb:
Green: reduces redness such as in dark spots left by pimples and impurities and can also help against rosacea and eczema.
Yellow: makes small veins, spider veins and bluish eye circles disappear.
Orange/apricot: eliminates pigment spots and dark spots left by pimples.
Pink: a milder version of orange, helps with moderate dark circles under the eyes.
Lilac: evens out yellowy or pale skin areas.
Never let a surprise pimple or a sleepless night ruin your day. With colour corrector make-up, you can enjoy an even complexion no matter what – the perfect basis for a casual office look or a dramatic entrance in the evening.
What colour corrector products are available
Once you have developed a taste for them, you will never want to be without your colour corrector products. Want to ease yourself in slowly? Then first try a concealer pen, the classic CC product. Carefully dab it on dark spots or red areas and observe the almost magical effect for yourself.
For larger red areas, a creamy or liquid colour correction make-up is the way to go. No matter whether concealer or foundation: apply the CC product as usual and treat yourself to a look in the mirror – you won't be disappointed. The lightest variation of colour corrector make-up is the CC cream.
You can use it when you have no time for a full make-up session but still want to have an even complexion. Apply it to your face like a gentle lotion. It effortlessly evens out smaller spots and redness. It usually also contains nourishing ingredients as well as a little sun protection factor. In this way, your skin looks lovely and well cared for all day long and you are prepared for any challenge.
Buy colour correctors at parfumdreams
Say goodbye to dark circles under your eyes! From now on, you will look flawless every day. Whether powder, foundation or CC cream: parfumdreams has it all. Enjoy our huge range of colour correctors and discover more beauty products for naturally beautiful skin.