Camouflage make-up
3 article(s)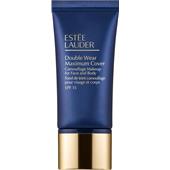 Estée LauderFace make-up Double Wear Maximum Cover Camouflage
£31.59
/ 30 ml
BP: £1,053.00* / 1 l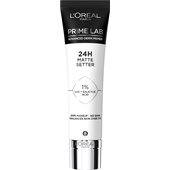 L'Oréal ParisPrimer & Corrector Prime Lab Matte Setter Primer
£10.51
/ 30 ml
BP: £350.33* / 1 l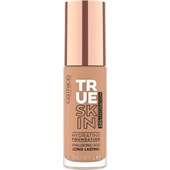 5/5 AggregateRating
Camouflage make up for an even complexion
Camouflage make up is a general term for foundations or concealers that are more heavily pigmented than regular products. This dramatically increases their degree of coverage: impurities, redness, pimples and even tattoos disappear behind camouflage make up as if by magic. What has been a staple on film sets and theatre productions for years can be the next addition to your personal collection:
Camouflage foundation: comes in a tube or pot and is available in different nuances. Ensures an even complexion that can be contoured further.
Camouflage cream concealer: makes dark circles under eyes disappear and makes your skin look nice and fresh.
Camouflage liquid concealer: silky texture that blends in with the primer. Conceals sensitive areas and also supplies hydration.
Camouflage concealer palettes: neutralises uneven patches through complementary colours: pink to combat dark circles, green to combat redness and purple to combat paleness.
And you don't have to be a make-up artist to be able to achieve from stunning results. Camouflage make up is only marginally different from regular make-up. The following generally applies: the softer the texture, the higher the coverage. With a little practice, you will quickly be able to use this beauty aid to full effect and create your desired look.
How to use camouflage make up properly
The wax-like texture makes camouflage make up a versatile product to use. Light finish or strong coverage? The possibilities are yours to choose from. Of course, camouflage foundation should suit your skin tone. The veins on your wrist are a good reference point. If they shine through with a greenish hue, then you have a warm skin type. If they are more bluish, then you have a cool skin type.
To ensure that camouflage make up provides optimal coverage, the right technique is key. Take a little product with a make-up spatula and firstly put it on the back of your hand. This warms up the wax in the foundation and the pigments are easy to spread. For a delicate finish, it is enough to put a little product straight onto your brush.
For an optimally even finish, start applying it in the centre of your face and work your way outwards. An oval brush is the perfect beauty tool for this job. Afterwards, add some setting powder to make the camouflage make up water resistant. Now your face is ready for eyeshadow, lipstick and the rest.
Shop camouflage make up now and start your day with confidence
Skin impurities, redness or unwanted tattoos are no longer a reason to let your day be ruined. Camouflage make up conceals, covers up and smooths, so you can get the most out of your confident smile. Whether liquid or cream: at parfumdreams, you will find the right product for your requirements.