Cream eyeshadow
10 article(s)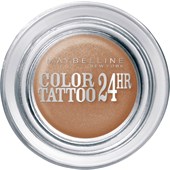 Maybelline New YorkEye Shadow Eyestudio Color Tattoo
£3.33
/ 1 pcs.
BP: £3.33* / 1 pcs.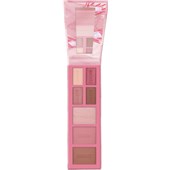 4,5/5 AggregateRating
Cream eyeshadow for brilliant eyes
There are different types of cream eyeshadow. They come in small pots with screw caps or as eyeshadow pencils. Often, they are also used as a coloured eyeshadow base instead of a primer. After applying, simply wait until the liquid eyeshadow has dried. Afterwards, you can also apply powder eyeshadow. A creamy eyeshadow in your favourite colour is enough for a simple everyday look. Apply it, blend it and you're done with eye make-up.
Cream eyeshadow: Easy application and long-lasting
Cream eyeshadow has a lot of advantages over classic powder eyeshadow:
The creamy texture of eyeshadow makes it very easy to apply and blend – whether you do it with an eyeshadow brush or simply with your finger.
Cream eyeshadows are highly pigmented. You only need a small amount of the product to create a stunning effect.
Most cream eyeshadows dry on the eyelid, which means they don't creep into eyelid wrinkles during the day – even without an eyeshadow primer.
Buy the best cream eyeshadows at parfumdreams
Upgrade your make-up collection with a cream eyeshadow that brings out the colour of your eyes. They are versatile, easy to apply and very long-lasting. At parfumdreams, you'll find everything you need to set your eyes off to perfection.