Contouring stick
7 article(s)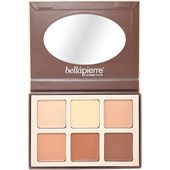 4/5 AggregateRating
Showcase your face with contouring
What started as a trend is now a staple when it comes to a radiant look and decorative cosmetics. Contouring is not just about adding accents. It is your secret weapon for accentuating some parts of your face and concealing others. The better your skills are, the more you can achieve with this creative technique. it is important to work with your your skin tone and your facial shape.
With these products, contouring is a breeze
A little bronzer here, a little highlighter there. For the perfect contouring make-up, you need two things: a little time and a little practice. Make-up is like anything else: no one is born an expert. To ensure that your contouring endeavours are successful, you will find all the right products in the parfumdreams online shop:
Highlighter: creates feminine contours and accentuates the cheek bones, your Cupid's bow or corners of the eyes.
Contouring powder: a matte finish and cool colour tone – the counterpart to bronzer gives your face more definition.
Bronzer: summery, shimmering accents in warm brown as a contrast to the highlighter.
Contouring stick: the creamy consistency ensures high coverage, but is not so easy to work with. Perfect for dry skin.
Contouring powder: removes excess oiliness and produces a matte finish. A great choice for oily or combination skin.
Diverse brushes: only with the right tools can you produce a glowing result.
No matter whether solid or liquid contouring: before you start, find out your skin tone. The product you choose should be no more than two shades lighter or darker than your natural tone. Otherwise the make-up will look like a mask. The colour tone of the contouring product should always be cool, because it should imitate a natural shadow.
When it comes to changing the shape of the face, contouring unfurls its true magic: thin cheeks appear fuller with the right highlights, while a square chin can be softened with dark accents. By accentuating the cheek bones, an oval face can be given an expressive silhouette. A round face shape can be visually elongated by targeted accents.
Tips for radiant contouring make-up
A contouring stick produces different results than a dry powder due to its creamy consistency. Don't apply it too thick. Too many layers can overload the face. Start slowly and add more bit by bit until you have just the right amount. With a little practice you will soon have the knack of it.
Optimal contouring accentuates your best features. But it doesn't change your face to the point that it no longer looks like you. A little contouring powder under the cheek bones in often enough to accentuate them to the right degree. Many people swear by contouring on the nose and jaw area. At the end of the day it is up to you how you like it best.