Conditioner bar
1 article(s)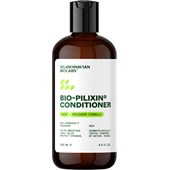 Conditioner bars: Sustainable care for healthy hair
We have entered the era of sustainable products for healthy and radiant hair and conditioner bars are becoming increasingly popular. Liquid conditioners often contain not only nourishing substances, but water too. Conditioner bars dispense with that "filler ingredient". Their packaging is often also plastic-free and completely recyclable. The focus is on naturalness and sustainability. With formulas that include high-quality and nourishing ingredients, a conditioner bar is a real treat for the hair.
Hair conditioner bar: Shine and hydration for all types of hair
Conditioner bars are available for every hair type these days. Natural ingredients such as plant protein, organic hemp oil, organic shea butter and organic almond oil have a soothing and moisturising effect. At the same time they restore the scalp's natural pH value to alleviate it from feelings of tightness.
Conditioner bars also seal the hair cuticle after washing, in the same way that conventional liquid conditioners do, thereby preventing further damage to the hair from environmental aggressors. Mango butter, grape seed and coconut oil extracts deliver intensive care to damaged and stressed hair.
How to use conditioner bars
Conditioner bars are used after washing the hair with shampoo. Wet the bar to activate it. Then apply the emulsion and distribute the conditioner bar evenly through the hair, but only apply it to the lengths and ends. Leave it to do its job for a few minutes, then rinse thoroughly.
Always store your conditioner bar in a dry place. It's best to use a soap dish with little holes in the base so that excess water can drain off, or a small soap bag made of natural materials.
Conditioner bars: Sustainability for your hair
Conditioner bars aren't just healthy and sustainable, they actually last longer than regular conditioners because they don't contain any water. The active ingredients are condensed into a bar that is wet before each application. This process ensures that only a small amount of conditioner is necessary as it is supplemented by the water that is added during use.
Another advantage of conditioner bars is that they reduce plastic packaging waste. Most manufacturers wrap their conditioner bars in paper.
The ingredients all have natural origins, and you won't find any harmful silicones or artificial fragrances in conditioner bars. Instead, they are made from natural ingredients that restore a healthy shine to the hair.
Conditioner bars with high-quality ingredients at parfumdreams
The benefits of conditioner bars are obvious: They are no less effective than conventional liquid conditioners. They contain natural ingredients that prevent the hair from drying out, deliver intensive care and prevent split ends.
Conditioner bars also last for ages, which makes them very sustainable. They come in small-sized packs that make them perfect for travelling. You can't go wrong on holiday with shampoo and conditioner bars in your suitcase. At parfumdreams you can find conditioners for all hair types that provide intensive nourishment and care after washing. Check out our current range of sustainable haircare products for your hair.