Cream contour palette
3 article(s)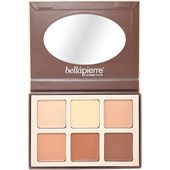 Defining your face with contouring
Gentle modelling, bold expression: anyone who has mastered the art of contouring can get the best out of their face shape. Playing with bronzer and highlighter makes the nose appear slimmer, accentuates the cheeks and conceals a receding chin or a high forehead. No wonder that contouring palettes have since become a staple for every beauty queen.
How to find the right contouring set
Powdery of creamy? This decision largely depends on your skin type. Powdery contouring is generally easier to apply and very easy to blend. However, it is only suitable for dry skin to a limited extent. A creamy contouring palette is more heavily pigmented, giving it a higher degree of coverage. However, if used on oily skin it can cause a patchy look.
Pale or dark skin? Of course, the optimal contouring set for you depends on your natural skin tone. If you have very pale skin, the tone should not be too dark or it will look unnatural. Opt for matte products that are no more than two shades darker than your skin. The darker your skin, the darker the contouring powder can be.
What accessories do you need for the contouring palette?
To ensure optimal face modelling, you will also need a few accessories. Powdery contour is best applied with a fluffy brush. This lets you apply it and blend it on the skin with ease. Your skin will look matte and natural.
When applying contour with a creamy consistency, try using a wide foundation brush. Alternatively, you can also use a beauty blender. Whatever you decide: make sure that you use a separate tool for every product in your contouring palette to prevent unwanted mixing. Optimal blending is important so that no borders are visible.
Buy contouring palettes at parfumdreams
No matter if you are a beginner or a beauty queen: at parfumdreams, you will find contouring palettes for every budget and every skin requirement. A small contouring set is perfect for when you're on the go and fits in every handbag, while the larger palettes let you create countless exciting looks. Define your face: of course you can buy the accessories you need from us as well, so you can get started at home right away.