Mineral powder
9 article(s)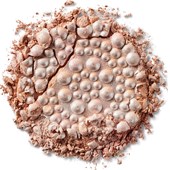 Physicians FormulaBronzer & Highlighter Mineral Glow Pearls Bronzer Powder Palette
£8.50
/ 8 g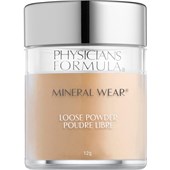 Physicians FormulaPowder Mineral Wear Loose Powder
£10.30
/ 12 g
BP: £858.33* / 1 kg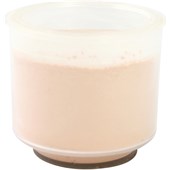 zaoFoundation Refill Mineral Silk Powder Foundation
£12.11
/ 15 g
BP: £807.33* / 1 kg
4,5/5 AggregateRating
Mineral powder – airy make-up for warm days
What is powdery light, nourishes the skin and creates a natural look? The answer is: mineral powder. Thick layers of make-up are tough on the skin, especially on summer days. These mineral pigments create a heavenly soft texture with perfect coverage. Mineral powders are becoming more and more popular thanks to the following:
Ideal for impure skin: It is non-comedogenic. This means it doesn't clog the pores. Instead, the minerals have an anti-inflammatory effect.
Lightweight look: Replaces heavy foundation and still creates an even skin tone - a wonderful alternative for the office or a hot date.
Natural effect: Skin appears less dehydrated and helps prevent irritation.
Quick and easy: Prefer not to stand in front of the mirror for ages in the morning? Mineral powder is easy to apply with a large brush. and the result is impressive.
There are two different kinds of mineral powder. The pigmented version is sometimes called powder foundation because it is perfect as a primer. It absorbs excess oil and leaves the complexion matte. Transparent mineral powder, on the other hand, works like a setting powder to give the ideal finish. It's also great for when you're on the go and your make-up could do with a little touching up between uses.
How to apply your mineral veil correctly
Mineral powders come as a loose or pressed powder. Both are easy to apply with a powder brush. With a loose mineral veil, make sure to tap off any excess product first – less is definitely more. Then distribute it over your entire face and neck using circular motions.
Despite the light texture, You should always work the mineral powder in well and blend it properly. The fluffier your brush, the easier this will be. Now take a look at the results in the mirror. Would you like a little more coverage? Apply another layer of mineral powder and get an even complexion without heavy make-up.
You can also add a touch of contouring using a bronzer and highlighter. Some types of mineral powder have glittering or shimmering pigments. This adds a reflective sheen to the skin, bringing out your inner glow. Only apply one layer for a natural result.
Why your beauty case should never be without mineral powder
Mineral powder acts like a delicate veil on the skin and adds an extra layer of nourishment. Instead of artificial silicones and questionable paraffins, this type of powder uses zinc oxide, clay and minerals such as calcium and magnesium. An antibacterial film develops as a result, which is also generally well tolerated by acne sufferers.
It also helps protect the skin from UV rays. Some of the sun's rays are reflected by the minerals on the skin. If you are exposed to strong sunlight, however, you should apply an additional sunscreen. Basically, mineral powder is suitable for all skin types. Reason enough to give it a go and master every challenge with a summery, even complexion.