Fragrances of Keiko Mecheri
The perfume form the Japanese designer is not just first-class, it also has an unusual background. K…
Learn more!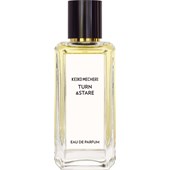 Keiko Mecheri Fragrances
Delicate and perishable, yet unforgettable
The perfume form the Japanese designer is not just first-class, it also has an unusual background. Keiko Mecheri was also a very successful painter, which is how she first came to the world of fragrances which she has helped shaped equally successfully since the 1990s. Initially, she designed candles and exquisite care products with her partner. Not until 1997 did she found her exclusive "Les Parfums Keiko Mecheri" label in Beverly Hills. Boundary-spanning, skilfully crafted, precious, first-class and rare, classic, gentle yet also strong and elegant, that's how the artist defines her own fragrances. She uses mystical stories, old sagas, journeys and even memories of childhood to get inspiration for her perfume creations. Keiko Mecheri is a true artist who always sees what could be, not what is. The names of the fragrance which celebrate femininity, which are so gentle and perishable but also absolutely unforgettable, sometimes offer a clue to their inspiration, but not matter how Keiko gets her inspiration, each perfume is first-class and a little masterpiece.