Facial cleansing brush
9 article(s)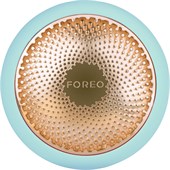 ForeoIntelligent Treatment with Masks UFO 2
£174.91
/ 1 pcs.
BP: £174.91* / 1 pcs.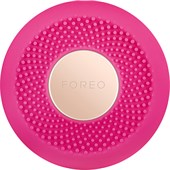 ForeoIntelligent Treatment with Masks UFO Mini 2
£105.97
/ 1 pcs.
BP: £105.97* / 1 pcs.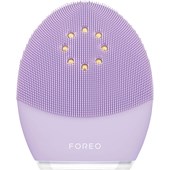 ForeoCleansing Brushes Luna 3 Plus for sensitive skin
£200.28
/ 1 pcs.
BP: £200.28* / 1 pcs.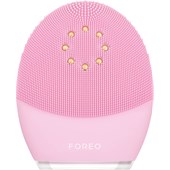 ForeoNormal Skin Luna 3 Plus for normal skin
£248.46
/ 1 pcs.
BP: £248.46* / 1 pcs.
5/5 AggregateRating
Facial cleansing brushes for gentle cleansing right down to the pores
Facial cleansing should be a fixed component of your evening routine. Facial cleansing brushes are perfect for removing make-up residue, dirt and dead skin cells without a trace, while also treating your skin.
A facial cleansing brush deeply cleanses and massages your delicate skin at the same time. This improves circulation and – when used regularly – results in a finer complexion.
Benefits of facial brushes for daily cleansing
Not only are electric facial cleansing brushes easy to use, they also boost the effect of creams and serums as they cleanse the skin thoroughly in advance and open the pores. This means that the active ingredients in the applied products can penetrate deeper into the skin's layers and have an even greater effect.
Regular cleansing with facial brushes helps prevent pimples and blackheads. Electric facial cleansing brushes are up to ten times more effective at removing dirt and dead skin cells than conventional facial cleansing methods.
Cleansing with a facial brush is so easy and effective
Facial cleansing brushes are quick and easy to use and can be incorporated into your daily beauty regime:
Moisten your face and apply a cleanser of your choice to either the brush head or your skin.
Use the facial brush to clean your skin, moving from one zone of your face to the next. This should take around one minute and is usually pre-set by most manufacturers of electric facial brushes.
Any remaining cleanser can be rinsed off.
Then it's time to apply care products such as serums, creams and scrubs.
Please note: Face scrubs should only be applied once a week after cleansing with a facial brush.
Buy high-quality facial cleansing brushes at parfumdreams
There is a large selection of high-quality facial brushes. Whether manual, electric, silicone, vibrating or oscillating, there is a corresponding cleansing brush to suit every skin type and every preferred mode of facial cleansing.
Manual brushes are easy to use and very affordable. They provide a gentle cleanse and are particularly well suited to highly sensitive skin types.
Electric brushes cleanse deep into the pores and remove all dirt and make-up residue from the skin. Regular use results in a finer and more even complexion.
One difference with electric facial brushes is the way the brush works – rotating or oscillating. In the case of rotating brushes, the brush head rotates over the skin, whereas oscillating facial cleansing brushes rely on oscillations (up to 300 times per second). Oscillating brushes are particularly well suited to sensitive skin. There are now also brushes that combine both functions.
Facial cleansing brushes made of silicone for clear skin
Facial cleansing brushes made of medical silicone don't give bacteria any opportunity to multiply and settle. These brush attachments are easy to clean and can be used for up to six months. Prerequisite: The attachments must be washed thoroughly in clean water after every use.
Brush heads made of nylon fibres can be used for up to 3 months and should also be washed thoroughly after each use.