Skincare sets for men
15 article(s)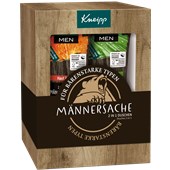 KneippMen's skin care Gift Set "Männersache" Man's business
BP: £8.45* / 1 pcs.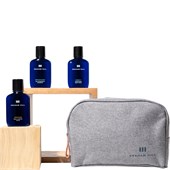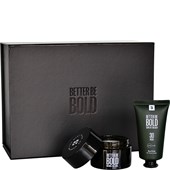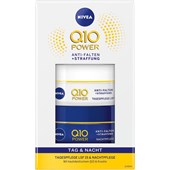 5/5 AggregateRating
Skincare sets for men: products suitable for special requirements
Men's skin has different requirements than women's skin, which is why special men's skincare sets usually contain completely different products. After all, beards and shaving play a major role in men's facial skin care and grooming products should take this into consideration.
Men's skin is also up to 20% thicker than women's skin and contains more collagen, which keeps it taut longer and provides better protection against external influences such as cold or water. On the other hand, men's sebaceous glands produce more sebum, which is why men suffer from blemishes and clogged pores more often than women.
You can either put together a
Men's grooming kit
yourself or buy one ready-made – the key is to make sure it contains all the products you need.
Skincare sets for men: What will I find inside?
A face care set for men will include a few basic products. The set can be supplemented with products for special requirements – depending on your skin type as well as your beard and shaving routine.
Face cream: While it sounds quite basic, many men still haven't incorporated one into their routine. Men's skin also needs regular moisture so that it does not dry out. A face cream nourishes, moisturises and maintains the skin's protective barrier. It's an absolute essential for a men's skin care kit.
Facial cleanser: A good cleansing gel can be used daily, removes dirt as well as excess sebum and clears the pores. This prevents blemishes and fights impurities.
Face scrub: A face scrub should be an integral part of a men's face care set to remove dead skin cells and sebum. It will combat blemishes and is especially important if you have a beard to ensure that the skin under the beard is also cared for, does not itch and that no redness occurs.
Sun protection: Men's skin needs sunscreen to effectively prevent wrinkles and visible skin damage.
Facial serum: serums can provide men with irritated skin with valuable nutrients to make their complexion appear clearer and visually reduce the size of pores.
After shave balsam & lotion: Shaving foam and after shave balsam for the skin are products that many men also use regularly. After all, every time you shave, you also remove the top layer of skin, which can cause irritation, dry skin and, in the worst case, minor inflammation. There are ready-made skincare sets for men which are specially designed for shaving and pampering irritated skin after shaving.
Beard care: Not all men have beards, but those with long beards in particular need to put a lot of work into maintaining them. Skincare sets for men with a focus on beard care usually contain a beard shampoo, beard oil, beard balsam as well as a scrub.
Shop men's skin care kits for your skin type
Skincare sets for men should be targeted to suit your skin type. While one person may suffer from dry skin that regularly feels tight and flaky, someone else may struggle with high sebum production and blemishes. If you have sensitive skin, it is important to match the care products to it, so they should ideally not contain any fragrances.
Foregoing skincare is not an option
Many men are content with soap and water and at most apply an aftershave after shaving. Despite this, men's skin is just as exposed to external influences as women's skin and therefore benefits just as much from effective care. After all, creams and appropriate skin care routines can help keep skin radiant, tighter for longer and prevent wrinkles and skin damage caused by UV rays.
At parfumdreams, men will find a large selection of men's skin care sets – and women will also find what they're looking for when they're on the hunt for a suitable gift for their dad, brother, husband or boyfriend.