Body care sets
8 article(s)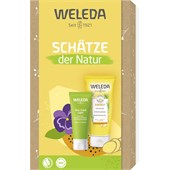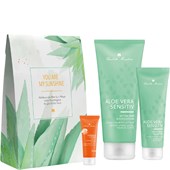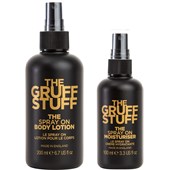 5/5 AggregateRating
Body care sets are always a lovely surprise
Why do body care sets for women go down so well? Firstly, they are a sign of good taste and much more creative than flowers or chocolates. Secondly, they show that someone has really thought about what the person receiving the gift likes. Because you have to know the person receiving a shower gel with the scent of their favourite fragrance or a special product from their favourite cosmetics line rather well.
Body care sets for women – what's inside them
Luxurious care, beguiling fragrances and sensual pleasure. Anyone buying a body care set knows exactly what effect it will have. Choosing the right products is just as important as the price. Inexpensive sets are not necessarily less attractive. They just offer less content than their high-priced competitors. Some of the most popular types of body care sets are as follows:
Shower gel + Body care: A classic for many occasions. From affordable to high-priced, whatever the price category it is sure to be a pleasant surprise.
Bath sets: Everything you need for a luxurious bubble bath. Often includes a massage glove or a brush for the back. Preferably, the person receiving the gift also owns a bathtub.
Shower sets: Feel the good mood roll relaxing beneath the warm water. Moisturising foam or pampering oil leave the skin supple and your thoughts dreamy – and with your favourite fragrance.
Soap sets: For purists and those who value all things natural.
Pampering sets: For the spa in your very own bathroom. With massage oil or bath pearls, body scrub or loofah sponge.
The all-time favourite among body care sets is still a combination of shower gel and body lotion. Hardly surprising, almost every woman has these two products at home. This version is by no means boring. If you prefer something a little more exclusive, choose a more opulent set with soap, scrub, shaving foam or body spray. As long as you have the right fragrance and the products fit with what the recipient needs, you've got it right.
Are there also body care sets for men?
Of course. Even men need their own body care sets. The classic shower gel and aftershave are complemented by special lines for dry skin, for after a workout or for the hair & body. Shaving sets are also on trend and no bathroom should be without them. After all, who doesn't find a well-groomed appearance and a good scent attractive?
Shop for body care sets at parfumdreams
Pamper yourself or your loved ones. In our online shop you will find a range of stylish body care sets for a variety of different needs. Whether for sensitive skin, a stressed spirit or simply to enjoy yourself: Caring for your body is like a wellness treatment for a little treat in between.