Carolina Herrera perfume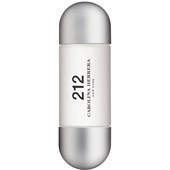 Carolina Herrera212 New York Eau de Toilette Spray
£43.80
/ 30 ml
BP: £1,460.00* / 1 l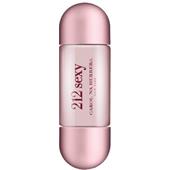 Carolina Herrera212 Sexy Women Eau de Parfum Spray
£32.26
/ 30 ml
BP: £1,075.33* / 1 l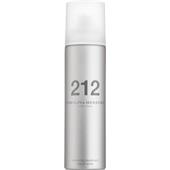 Carolina Herrera212 New York Deodorant Spray
£21.11
/ 150 ml
BP: £140.73* / 1 l
Carolina HerreraChic Men Eau de Toilette Spray
£57.00
/ 100 ml
BP: £570.00* / 1 l
4,5/5 AggregateRating
Carolina Herrera perfume: The taste of First Ladies
Carolina Herrera's perfume is seductive, elegant, subtle and timeless. The designer launched her first fragrance for women in 1988 and has since then added many other creations. Both women and men can enjoy the fragrance compositions and enhance their whole image with Herrera perfume. Her first men's fragrance appeared in 1991.
The Venezuelan-American fashion designer Carolina Herrera founded the eponymous label in 1981. She became famous as the dresser of Jacqueline Kennedy Onassis and designed her wedding dress in 1986. She also dressed First Ladies Laura Bush, Michelle Obama and Melania Trump.
Carolina Herrera's fragrance compositions
The bottles of Herrera perfume are also extremely striking. The Eau de Parfum by Carolina Herrera's fragrance Good Girl appears as a stiletto. The bottle comes in red, black or blue, depending on whether it's housing the Légère, Suprême or Glam version of the perfume. Other well-known fragrances by Carolina Herrera include:
Carolina Herrera 212 New York: This Herrera perfume is a homage to Manhattan, whose telephone area code is 212. Fast-paced modern nuances that support women in their day-to-day are the top notes of this perfume. Bergamot, citrus oil with a base note of sandalwood and musk characterise this fragrance.
Carolina Herrera Very Good Girl is a variation on the classic Good Girl and highlights the individual fragrance notes with even greater emphasis. Rose, blackcurrants, vanilla and lychee characterise the nuances of this perfume.
Carolina Herrera Women, another Eau de Parfum by Carolina Herrera stands for classic elegance and sensual notes reminiscent of Latin America, and especially Venezuela – Herrera's country of birth.
There are also men's fragrances by Carolina Herrera. The classic fragrances exude masculine suavity and style with notes like bergamot, leather and cinnamon.
What characterises the perfumes by Carolina Herrera?
The designer has always seen women as multilayered personalities and wanted to emphasise this with her Carolina Herrera fragrances. For her, women have an elegant, sexy side but are at the same time smart and enigmatic. The classic motif of opposites is also reflected in her fragrances, which pinpoint this duality. Men's personalities are also supported by Herrera perfume – the fragrances suit the modern man of today, who radiates self-confidence and suavity.
The nice thing about the perfumes by Carolina Herrera is that women can enhance them with complementary make-up. Whether it's lipstick, powder or mascara – you can deck yourself out from top to toe with Herrera. Men too can take another piece of the Herrera fragrance world home with them with aftershave or deodorant. Herrera's goal is for women and men to discover their favourite fragrance and then incorporate it into their care routine.
Shop Carolina Herrera perfume and the world is your oyster
At parfumdreams a wide selection of Herrera perfume is available. Whether it's Eau de Toilette or Eau de Parfum – the Herrera fragrances are always sensational and enhance the best points of women and men both in the day-to-day and for special occasions.