Shaving soaps
6 article(s)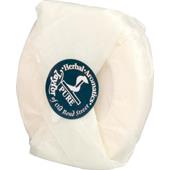 Taylor of old Bond StreetSandalwood series Traditional Herbal Shaving Hard Soap
BP: £271.40* / 1 kg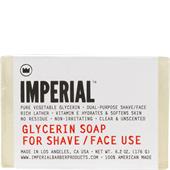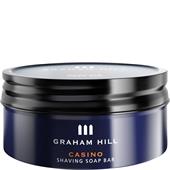 Graham HillShaving & RefreshingCasinoShaving Soap Bar
£12.30
/ 85 g
BP: £144.71* / 1 kg
5/5 AggregateRating
Shaving soap for men is more popular than ever
Shaving soap has been around since the 19th century. In recent decades, it has been displaced by shaving foam in a can that you simply spray on. However, in recent years it has been celebrating a comeback with the emergence of various beard trends and an ever-stronger focus on beard grooming products for men.
What exactly is shaving soap?
Shaving soap is not the kind of soap you use to wash your hands or body. It is a type of cream, which is lathered with a shaving brush. The goal is for the lathered shaving soap to make the bristles stand up straight and soften them so they can be removed carefully and thoroughly.
Due to its microporous lather, shaving soap is the best choice as a shaving foam when it comes to shaving results and experience, and many men don't want anything else once they have tried shaving soap.
Also, shaving soap lasts considerably longer than a bottle of shaving foam. This is not only cost-effective, it also produces less waste, which makes shaving soap for men a sustainable product.
What types of shaving soap can you buy?
Shaving soap for men can be bought in various forms:
Hard shaving soap: Hard shaving soap comes in a solid block that is reminiscent of hand or body soap. For shaving, the brush is rubbed right onto the soap to form a lather. Hard shaving soap lasts a very long time and therefore does not have to be replaced very often.
Soft shaving soap: This is like a cream and comes in tins and pots. It can be lathered in the pot itself and forms a different lather from that of hard shaving soap.
Shaving cream: This is applied to the skin straight from the tube and is particularly suitable for dry skin, as it offers greater protection for the skin than shaving foam.
Shaving cream stick: This is a version of hard shaving cream in the shape of a stick, which is applied straight onto the skin, where it can be lathered.
How to lather shaving soap: This is how it's done
The first time you try to lather shaving soap, you might not be successful. The right amount of water is critical for the consistency of the lather and the way you move the brush on the soap also determines what kind of lather you will get.
If you use too much soap, the lather becomes soapier rather than creamier. You should thin it down with a little water. If the lather is too thin and watery, add a little soap to thicken up the consistency.
You should not just move the brush in circles on the soap but rather brush it backwards and forwards with circular movements and rub it back and forth on the soap again and again. The varied movements cause oxygen to combine with the soap-and-water mixture to create a really good lather.
You can warm the water, which also gently warms the shaving soap, and therefore the lather. This warm lather opens up your pores even more for an even closer shave.
Can't get a lather with shaving soap? Then use shaving cream
If you feel you can't get on with shaving soap, then you can practice with shaving cream. The consistency is easier to handle and it can be lathered directly on the face with a brush or in a bowl. You can also practice the typical brush movements you need to get a really nice foamy consistency.
Don't worry if it doesn't work straightaway. In time, it will get easier and easier and soon you won't want to shave again in any other way other than with a high-quality brush and a pleasantly fragranced, nourishing shaving cream that lathers perfectly.