Keratin shampoo
6 article(s)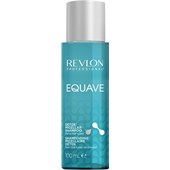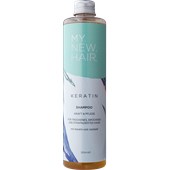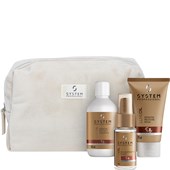 System Professional Lipid CodeLuxe Oil Travel Set
£35.95
/ 1 pcs.
BP: £35.95* / 1 pcs.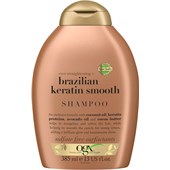 OgxEver Straightening Brazilian Keratin Smooth Shampoo
£5.41
/ 385 ml
BP: £14.05* / 1 l
5/5 AggregateRating
Keratin shampoo helps prevent hair breakage
Do you have dry, stressed hair that is prone to breakage? A keratin shampoo can help you to care for demanding hair. It repairs damaged structures, smooths the cuticle and restores shine and suppleness. Human hair is 90% keratin, but this natural substance can be damaged by various things:
perms, colour treatments, lightening treatments, etc. involve chemicals that put a strain on the hair and can cause keratin loss.
UV rays: Wear a hat or scarf over your hair in summer to prevent gaps where keratin is depleted.
Heat: Even if you use heat-protection products, too much heat styling can damage the hair structure.
Environmental aggressors: Temperature fluctuation, headwear and dry heating air during the winter can stress out the hair.
Rough treatment: If you rub or brush your hair too vigorously, you can cause breakage.
Keratin is a protein that is found naturally in the hair shaft. It helps to keep hair strong and flexible. If the hair lacks keratin, growth is inhibited and it looks dull and brittle. A shampoo with keratin can help restore health and suppleness to stressed or damaged hair. But it doesn't happen overnight. Use a keratin shampoo over a long period of time and make sure your hair is otherwise well cared for.
Keratin shampoos – who should use them?
Since keratin is one of the hair's own building blocks, it is generally well-tolerated by everyone. People who have sensitive reactions to synthetic or animal-derived keratin should try a vegan version obtained from almonds. Keratin shampoo is generally suitable for all hair types. It gives straight hair a heavenly shine, while it reduces frizz and improves the manageability of curly and unruly hair.
The damaged lengths of the hair benefit most from a hair treatment with a shampoo containing keratin. It penetrates deep into the hair shaft to repair smaller gaps where keratin is depleted. After a hair lightening treatment, a keratin shampoo will help smooth the chemically damaged cuticle and can also help to reduce hair loss.
How to use your keratin shampoo
There's no reason why you shouldn't use this product for every hair wash. In fact, the best results are achieved through long-term use of products containing this naturally occurring active ingredient. It's incredibly easy to use: Wet the hair, massage in the keratin shampoo for a few minutes and rinse thoroughly. Make sure you use a suitable conditioner after washing. Or treat yourself to an intensive hair treatment once a week.
Hair that is susceptible to breakage and lifeless as a result of a lack of keratin should be treated with care. Never ever rub it vigorously after washing. It's better to gently squeeze out excess moisture with a towel and let it dry naturally. Otherwise even the best keratin shampoo won't work.
Discover keratin shampoo at parfumdreams
Whatever your preference, conventional, organic or vegan, at hair care that improves structure and strength. Look forward to robust and defined curls, or silky-sleek straight hair.