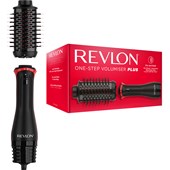 RevlonDryersOval Brush Dryer & VolumiserOne-Step Volumiser Plus
BP: £56.85* / 1 pcs.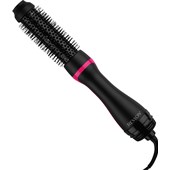 RevlonDryersBlack PinkOne-Step Dryer & Styler
£34.95
/ 1 pcs.
BP: £34.95* / 1 pcs.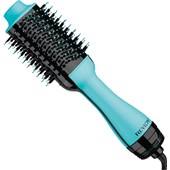 RevlonDryersMintOne-Step Dryer & Volumiser
£37.20
/ 1 pcs.
BP: £37.20* / 1 pcs.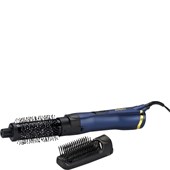 BaBylissHair styling tools Hair Dryer Brush Midnight Luxe
£44.00
/ 1 pcs.
BP: £44.00* / 1 pcs.
5/5 AggregateRating
Hot air brushes for a variety of hairstyles
A great hairstyle complements every outfit and makes you feel good. For salon-worthy hair even without a visit to the salon, there is a range of hairstyling tools on the market to help you style your hair yourself. Soft waves, curly locks or smooth straight hairstyles are easy to create with hot air brushes. Various brush attachments help you to create a variety of styles day after day.
A voluminous finish with the hairdryer brush
You can make frizzy hair soft and silky with a hairdryer brush and the warm air from the hairdryer. The outer cuticle layer of the hair is smoothed by the airflow and the often-used ion technology, making it look silky and soft. Thanks to the keratin coating, the negative ions create an anti-frizz effect and a shiny finish.
A hot air brush is suitable for every hair type and creates a variety of looks. Use a heat protector before using a hairdryer brush to give your hair additional nourishment and protection.
You can achieve the fashionable sleek look by drawing the hot brush slowly through individual locks of hair from root to tip.
Turn the tips of the hair with the hairbrush to produce light waves that flick up or under.
For soft curls, wrap the round hairdryer brush around individual locks of hair and leave it for around 20 seconds. The less hair you wrap around the brush, the stronger the curl.
As a hot air brush works with less heat than traditional straighteners, it protects the hair and damages the hair structure less.
Protective styling for every hair type
Hot air brushes don't heat up so much and can therefore also be used on damp hair. Most hot brushes have several temperature settings as well as a cool shot button so you can adjust the temperature to suit the hair texture. Fine, thin hair only needs a low temperature to style it and thus avoid damage. A thicker hair texture requires rather more heat.
Various attachments for hot air brushes
Every day a new look? Your new hot air brush with various attachments can manage this with ease. Choose the right attachment for the look you want and the texture of your hair:
Brush attachments with a large diameter (e.g. 50 mm) create volume and body.
Smaller attachments with a diameter of approx. 20 to 30 mm create light waves in the hair.
Smooth your hair with a paddle brush for the fashionable sleek look.
A drying attachment ensures targeted and quick drying.
Attachments with soft bristles lift the hair root, create more volume at the roots and are therefore wonderfully suitable for shorter sections of hair.
So all you need is a high-quality hot air brush to create numerous hairstyles. Scarcely any other hairstyling tool is so versatile.
Shop hot air brushes at great prices at parfumdreams
Hot air brushes have a great advantage: You no longer have to juggle with a hairdryer, round brush and other curlers. You've got a beauty tool that conjures up a variety of looks. Equipped with the appropriate accessories, you can style your hair a different way every day and protect your hair at the same time thanks to the lower heat.
At parfumdreams you will find professional hot brushes with selected attachments and accessories. Save money on expensive salon hairstyles and blow-dry your hair yourself from now on.