Hair diffuser
6 article(s)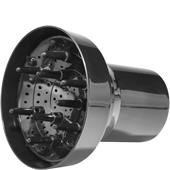 Efalock ProfessionalElectronic Devices Universal Diffuser
BP: £10.39* / 1 pcs.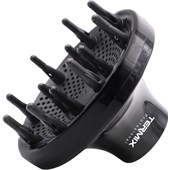 TERMIXSpare parts Diffusor for Termix Professional 4300
£20.98
/ 1 pcs.
BP: £20.98* / 1 pcs.
5/5 AggregateRating
Diffuser hairdryers – curly hair's best friend
Curly hair looks beautiful and frames the face perfectly. But styling and drying curls and waves can be a challenge. A diffuser hairdryer is good for this. It can help to define curls and reduce frizz. However, there are many different types of hairdryer with diffusers and you also need to learn how to use them.
Diffuser hairdryers: Definition and advantages
A diffuser hairdryer is a normal hairdryer with a special diffuser attachment for curls. These are the advantages of a diffuser hairdryer:
Protection from damage: The diffuser attachment of the hairdryer protects the hair from direct heat and reduces the likelihood of hair damage.
Produces volume: The use of a diffuser when blow-drying gives the hair more volume, as the diffuser lifts the hair and so the airflow can fluff up the hair evenly.
Creates defined curls: With a diffuser attachment, you can create defined curls by distributing the airflow well but without aiming directly at the hair, so the hair can be dried gently.
Suitable for all hair types: It doesn't matter whether you've got curly, wavy or straight hair – a diffuser hairdryer makes hairstyling much easier because the special attachments target every texture and shape.
It does however require somewhat more time to use a hairdryer with a diffuser then a regular hairdryer, as each section of hair has to be styled separately. In addition, a diffuser attachment is somewhat bulkier than a traditional hairdryer and needs more space when travelling.
The different types of diffuser attachments for hairdryers
Diffuser attachments for hairdryers are available in different sizes and shapes but they have the same goal: they define curls and reduce frizz.
The classic diffuser: This attachment has a round, dome-like shape and is equipped with lots of little holes. It produces a gentle airflow, which dries and defines curls naturally.
The finger diffuser: This diffuser has fingers, which can be bent in different directions. It is particularly suitable for thick and frizzy hair as it separates and defines the curls well.
The flat diffuser: This diffuser attachment has a flat shape and is equipped with lots of little dimples. It produces a strong airflow, which dries the hair quickly and minimises frizz.
The best thing to do is to try out various attachments to find out which type harmonises best with your hair texture.
Tips for using diffuser hairdryers
For the diffuser hairdryer to be most effective, you should work with low heat. This protects curly hair as it dries and avoids frizz. A heat protection spray can help to protect the hair from damage from the diffuser hairdryer and reduce frizz.
The hairdryer with a diffuser should be held at a distance of around 15 cm and moved slowly from the roots to the tips. This avoids strong friction. Haircare products for curly hair help to minimise frizz. A light leave-in conditioner or a hair gel can help to tame and define curls.
The importance of quality and ergonomics
Along with the type of diffuser attachment, the quality and ergonomics of the hairdryer are of great importance. A high-quality diffuser hairdryer is characterised by high performance and precise temperature controls so that hair is protected as it dries and frizz is avoided. In addition, the hairdryer should be light and easy to use.
Discover diffuser hairdryers at great prices at parfumdreams and get the best out of your crowning glory.