Pre shave for men
13 article(s)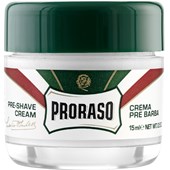 ProrasoRefresh Professional Pre-Shave Creme Refresh
£10.50
/ 300 ml
BP: £35.00* / 1 l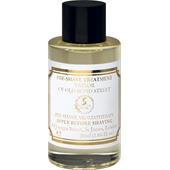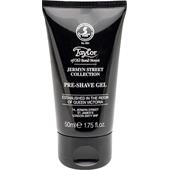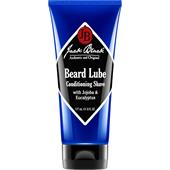 Jack BlackShaving care Beard Lube Conditioning Shave
BP: £101.98* / 1 l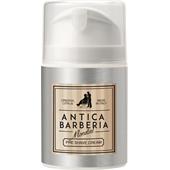 ERBEAntica Barberia Original Citrus Pre Shave Cream
BP: £314.40* / 1 l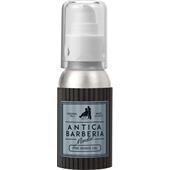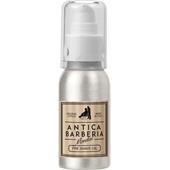 ERBEAntica Barberia Original Citrus Pre Shave Oil
BP: £347.60* / 1 l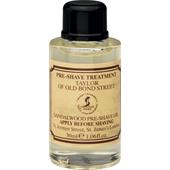 Taylor of old Bond StreetSandalwood series Pre Shave Oil
£16.85
/ 30 ml
BP: £561.67* / 1 l
5/5 AggregateRating
Pre-shave – how to get the perfect shave
After shave is something everybody has heard of. It soothes razor burn and nourishes the skin. But have you ever heard of a pre-shave? This step is just as important when it comes to men's shaving. Pre-shave products are the best way to prepare your skin and hair for contact with a sharp blade. The ideal pre-shave routine consists of two steps: Thorough cleansing and conditioning. For the latter, choose between two versions:
Pre-shave cream: Nourishes the skin prior to shaving and protects against irritation.
Pre-shave lotion: Provides intense hydration – especially suitable for dry skin.
Pre-shave water: Is used in the same way as normal after-shave for men. It quickly plumps up beard hairs for a close shave.
Pre-shave oil: Soothes irritated skin and stops bleeding during shaving.
Your skin type determines which version is right for you. If your skin tends to be dry and flaky, then the first thing you need is to moisturise it. A pre-shave lotion would be a good choice. On the other hand, if your skin is sensitive and tends to react with small spots, then a pre-shave oil. would be a better option.
Why pre-shave for men is so important
Magnificent full beard or silky-smooth shave – whatever your style, it all starts and ends with having healthy skin. Despite the fact that it's part of most men's grooming routine, shaving is hard on your skin. Minor and major cuts, redness and razor burn are a problem and quickly spoil the fun of your daily ritual. With the right pre-shave product, all that can be a thing of the past.
How to use a pre-shave with a wet shave
When performing a wet shave remember: the wetter the beard, the better the results. The first step to a pre-shave is to thoroughly cleanse your face and beard. A gentle scrub or a special shampoo removes sebum and flakes of skin. Doing just this one thing will help the blade effortlessly glide over your skin. Then apply a pre-shave lotion or another product of your choice.
The whiskers absorb the liquid and soften in a pleasant way. As a result, the sharp blade can cut with precision without irritating the skin needlessly. What's more, the nourishing ingredients cover the facial skin with a protective layer. This makes wet shaving less painful. Finally, condition your face as usual with an aftershave product, for example a shaving lotion for men.
Pre shave for dry shaving
The exact opposite is true for dry shaving: The drier the whiskers, the better the blades are able to do their job. This is why pre-shave products for dry shaving deprive the skin and hair of its moisture. It removes the sebaceous layer and straightens the beard hairs. The razor glides over the skin with no resistance and the risk of injury is minimised. The pre-shave works best if you apply it against the direction of hair growth.
Our shop has everything you need for a successful shave. Of course, we have also put together a clear overview of our pre-shave lotions and other products for you – so that your daily shave will be a relaxing pleasure!