Eyelash glue
5 article(s)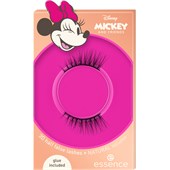 4,5/5 AggregateRating
Eyelash glue for a long-lasting wow effect
Fake lashes are essential for a dramatic eye look. But natural-looking false eyelashes are also a fabulous addition to a glamorous eye make-up look. Whatever you choose, you still need the best eyelash glue to keep your false lashes in place for a long time.
Different lash glue for different needs
There are many different types of eyelash glue. Transparent glue is a popular choice. It doesn't leave any noticeable marks behind if your eyelash strip slips while you're applying it. White glue is also transparent when it dries. It also has the advantage of making it easy to see how much you're applying to the base of your fake lashes. This stops you from absorbing too much of the eyelash glue. If you don't want to use eyeliner for your eye make-up, go for a transparent or white glue.
Black eyelash glue stays black even after it has dried. Combine it with eyeliner to create a thick base that makes your lashes stand out even more. This explains why it is only suitable when used with an eyeliner, as you won't be able to see the glue if it runs over the edge of the lashes.
How long do fake eyelashes last? From 24 hours to several weeks
Depending on the eyelash glue and the composition of the ingredients, the eyelash glue lasts at least until make-up is removed in the evening. Some products also promise a longer lifespan of up to two to three weeks with proper care. To remove the eyelash glue, we recommend using an eye make-up remover that can dissolve waterproof make-up. Soak a wad of cotton wool and leave it on the eyelid for a short time. Then you can remove the lash strip from the inner to the outer side of the eyelid. There are special removers for permanent glue that work effectively to dissolve permanent glue.
How to apply the right amount of eyelash glue with an applicator
The art of gluing false eyelashes is to apply the right amount of eyelash glue. A lot of products hcome with an applicator to make it easier to apply to the eyelash strip. An applicator also makes it easier to glue on individual lashes and fine cluster lashes. A thin film along the lash strip or at the base of the individual lash is all it takes to firmly attach the false lashes.
To apply the eyelash glue without an applicator or brush, put a small amount of glue on the back of your hand and apply the glue to the lash strip. Leave the glue to dry for about 20 to 30 seconds before attaching the fake eyelashes to your lash line. The glue will then have reached its full strength and will stick to the eyelid more quickly.
Buy the best eyelash glue online at parfumdreams at a great price
Parfumdreams not only offers you a large selection of fake eyelashes, but also has the best eyelash glue for all your needs. Whether you prefer a transparent or black eyelash glue, parfumdreams has the perfect product for you.