Konjac sponges
6 article(s)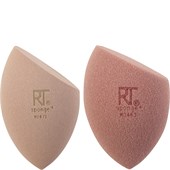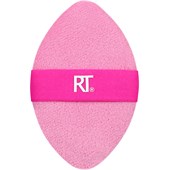 Real TechniquesMakeup Sponge Sets Miracle 2-in1 Powder Puff
£4.74
/ 2 pcs.
BP: £2.37* / 1 pcs.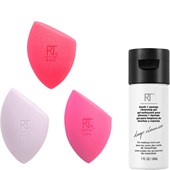 4/5 AggregateRating
Konjac sponges – gentle care, effective exfoliation for sensitive skin
Konjac root is incredibly versatile – and not just in Japanese cuisine. A special manufacturing process transforms this Asian root into a fluffy sponge, making it a great addition to your body care routine. Konjac sponges have a natural exfoliating effect that is also extremely gentle on the skin – perfect as part of your daily care regime.
What are konjac sponges?
Konjac root is primarily found in East Asia and is also known as devil's tongue. To make a konjac sponge, the producers grind up the root fibres. Various processing methods are used to turn the powder into a sponge that is ideal for skincare – and for facial care in particular.
A konjac sponge is microporous. The sponge is hard when you first buy it, but turns soft and fluffy once wet. It has a gentle, natural exfoliating effect and carefully removes dead skin cells. After use on the face, the skin feels noticeably softer. Konjac sponges can improve the skin's complexion in many ways:
deep cleansing of the skin
removing dead skin cells (exfoliating effect)
stimulating blood circulation
Some konjac facial sponges contain additives that can have a positive effect on the complexion. For instance, the addition of bamboo charcoal can help combat blemishes, while green tea can be used to alleviate redness or skin irritations.
Who is a konjac sponge suitable for?
Konjac sponges are entirely natural products. They have many positive attributes:
free from artificial additives
smooth surface
vegan
naturally recyclable or biodegradable
The sponge is gentle on the skin and therefore suitable for any skin type. It's a genuine alternative for people with very sensitive skin – even if they can't normally tolerate an exfoliant.
Using a konjac sponge correctly: Here's how
Once unpackaged, the sponge must be prepared for use. After manufacture, it is dry and hard. It only reaches its final size once it has been saturated for the first time with warm water. It then becomes soft and microporous. The following tips will help you use it correctly:
Cleansing or care products are not essential in order for you to enjoy the sponge's exfoliating effect.
When using a konjac facial sponge, a much smaller amount of cleansing or care product will suffice – whether that's a wash gel or cleansing milk.
We recommend massaging your skin with the sponge using circular motions. This will remove dirt particles and make-up residue effectively.
The sponge is also suitable as a bath sponge for the whole body.
Looking after konjac sponges: Important to note
Generally speaking, a konjac sponge does not require a great deal of care. It usually suffices to rinse it out with warm water after use and then carefully squeeze it out. However: Wringing out the sponge could damage the microporous texture and thus take away its exfoliating effect. We would also advise against using it with a scrub. The fine particles will settle in the pores of the sponge and are then very difficult to wash out.
If you use your konjac sponge daily, we recommend replacing it with a new one every 1-2 months. The exfoliating effect will decrease over time as the microporous texture becomes worn.
Order konjac sponges online now
Order high-quality konjac sponges conveniently online at parfumdreams. The sponges come in a variety of sizes, colours and shapes, so you're guaranteed to find the right care product for you. Discover online now and order your favourites right away.