Sun Hair care by Paul Mitchell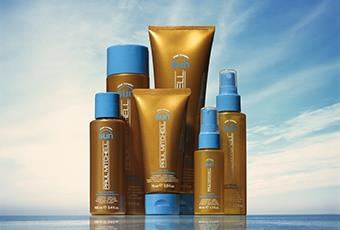 With the Sun hair care range Paul Mitchell provides your hair with three beach companions . Wind, salt water and UV-rays strain your hair, dry it out, causing the colour to fade and shine to disappear. The exclusive UVeil? Complexes in the hair cosmetics range protect the hair with precious sunflower extracts and with special ingredients that absorb harmful UV rays. .
Paul Mitchell Sun – treat yourself and your hair to a relaxing holiday on the beach
Start the day with the fresh aroma of "Recovery Hydrating Shampoo". Its nurturing foam offers your hair lots of moisture and optimal protection for your hair colour. The nurturing ingredients and oils in the "Shield Conditioning Spray" from the hair care range replenishes your hair's moisture reserves after washing and gives it an intense shine. The Uveil™ complex in the Conditioning Sprays protects shine and colour against the negative effects of a day on the beach. Its styling substances provide the natural finish. With the nurturing and protective ingredients of the After-Sun Replenishing Masque from Paul Mitchell you can give your hair captivating shine for your big appearance in the evening.