Colour depositing shampoo
3 article(s)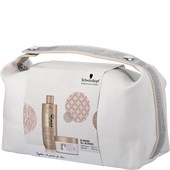 Colour depositing shampoo – for vibrant colour
Everyone with colour-treated hair knows that frequent styling and washing soon causes the colour to fade, leaving the hair looking dull and lifeless. A colour depositing shampoo refreshes the colour without damaging the hair. And it's just as easy to use as any other shampoo.
How does a colour depositing shampoo work?
The magic word is: pigments. Unlike a regular shampoo which only cleanses your hair, a colour depositing shampoo provides the hair with an extra portion of colour. But the pigments don't penetrate the hair shaft, like a chemical colour treatment does. They simply coat the hair shaft and can be washed out again. The result: more intensive colour and beautifully shiny hair.
The right way to apply colour depositing shampoo
You can't really go wrong here. But always adhere to the recommended leave-on time to achieve vibrant and silky results. It's also important to rinse the hair thoroughly after using a colour depositing shampoo because residue can irritate the scalp. Here are a few more tips on using colour depositing shampoo:
Choose a colour that's right for your hair: Do you have blonde hair? Then please don't use a colour depositing shampoo for brunettes because it might leave you with an unwanted and stubborn brown hue.
Colour depositing shampoos don't conceal grey hair.
Possible allergic reactions: Although it's highly improbable, you could have an allergic reaction to a colour depositing shampoo.
Colour refresh: Only use a colour depositing shampoo to refresh the colour after a colour treatment, not to change your colour altogether.
Whether your hair colour is natural or chemically treated: colour depositing shampoos for copper or brown hair shades work best. In fact, they're a real bonus because they make the hair colour richer, warmer and super shiny. One application usually lasts several washes, although the results achieved depend on your hair structure. Please remember to use a suitable conditioner or leave-in treatment product afterwards.
Gentle pastel shades achieved with a tinted shampoo
Are you bored with your hair colour? How about pretty pink, brilliant blue or lovely lilac? Brown and blonde aren't the only colour depositing shampoo colours. They are also available in all kinds of other colours, which is why they are perfect for experiments that you would never attempt with permanent hair colour. Colour depositing shampoos enhance your natural colour. But remember that even delicate shades of bright colours last longer on lightened hair.
Discover colour depositing shampoo at parfumdreams
Fed up of your washed-out colour and feel like it lacks brilliance? In the parfumdreams online shop you'll find colour depositing shampoos for blonde, brown or copper-coloured hair. Treat yourself to a gentle colour refresh without any harmful chemicals. Colour depositing shampoos save you precious time and money, so they deserve a permanent place on your bathroom shelf.