Home Hair brushes by ikoo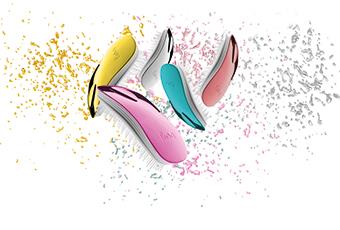 The IKOO Home line presents hairbrushes like you've never seen before. The brushes have no handle at all. Instead, the body of the brush is ergonomically formed and sits comfortably in the hand. The brushes in the IKOO Home line are the same size as a regular hairbrush and are ideal for daily haircare at home. The innovative form doesn't just look attractive, it also has a very special haircare function: The brushes make it especially easy to untangle the hair. At the same time, the sturdy yet flexible bristles massage your scalp. In this way, circulation to the scalp will be increased, encouraging hair growth.
Innovative brush design
Daily haircare can be torture, particularly when you have to detangle wet hair. Getting rid of knots can be a painful procedure, which can often pull the hair out. The IKOO hairbrushes have a special philosophy: They counter stiff hairbrushes with flexibility. The soft bristles adapt to the shape of your head and bend when they hit a knot. But they detangle your hair quickly and reliably, and provide a pleasant head massage at the same time. Even wet hair can be brushed out easily and pain-free. Daily haircare with the IKOO brushes will make your hair shinier and ensure more volume. The IKOO Home brushes are made of handcrafted acrylic and high-grade resin, and can be cleaned very easily.