Skin care of Shiluba
Shiluba from the Netherlands offers exclusive care products for sensitive, normal and demanding skin…
Learn more
Shiluba Skin care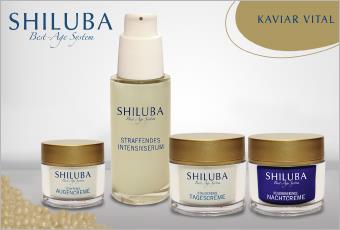 Shiluba from the Netherlands offers exclusive care products for sensitive, normal and demanding skin types, which are best suited for women with mature skin. Sophisticated components such as caviar and millet extract as well as different vitamins, proteins, phytosterols, lecithin, minerals and amino acids are contained in the formulas of the different care ranges. The concentrated active complex prevents premature skin ageing and offers a unique skin repair effect for intense care.
The Shiluba care combats skin ageing with extracts of caviar
One of the main reasons for ageing skin is the loss of moisture and a decrease in moisture binding. The loss of moisture causes a decrease in skin elasticity, small lines and wrinkles. The natural immune system of the skin is weakened. The new Shiluba Kaviar Vital skincare range was developed to combat skin ageing. The loss in the hyaluronic acid contained in the connective tissue of the skin is balanced out with extracts of caviar. The product range is made up of an Eye Cream, a Day and Night Cream as well as a specially developed Vital Serum. All products from the Kaviar Vital range can be combined with each other and are ideally suited for daily skincare.