Skin care of Ren Skincare
REN SKINCARE offers skin care products for the 21st century. The founders Robert Calcraft and Antony…
Learn more!
Ren Skincare Skin care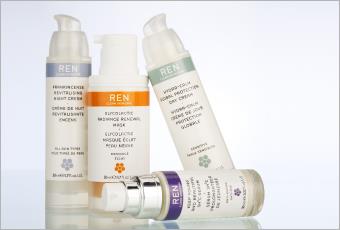 REN SKINCARE offers skin care products for the 21st century. The founders Robert Calcraft and Antony Buck developed the innovative REN SKINCARE skin care range with this basic principle in mind. This range is characterised by the 5 principles of Ren. The right ingredients, the right knowledge, the right product experience, the right deployment and the right environmental impacts are the components that make these natural skin care products so special.
Did you know?
Ren Skincare is an English manufacturer of natural cosmetics, which has had its headquarters in the heart of London since the company was funded. The latest research findings are used for Ren cosmetics to bring them into harmony with the organic procedures and ingredients of modern natural cosmetics. Therefore, no artificial ingredients are used whatsoever; instead, high doses of various natural ingredients are used to ensure good tolerability on the one hand and high effectiveness on the other. The products are categorised into different product ranges; besides bath oils and products, classic body and face creams are also available.
Natural cosmetics for sensitive skin
Ren also sells various cleansers, peels, tonics, and other skin care products. A separate line for hands, the eye area, and lips has also been created. However, all products from Ren Skincare adhere to the principle of a natural production chain and guarantee organic ingredients. The products are thus considered to be very caring; chemical ingredients are not permitted for dermatological reasons. Ren divides its own range and the value chain into 5 principles, including -Right Ingredients-, to guarantee tolerability. No parabens, sulphates, artificial colours and fragrances, and animal ingredients are used whatsoever.
The rules that Ren follows
The brand also concentrates on the -Right Science-. All products are based on scientific findings, which are then consistently put into practice with the -Right Product Experience-. The -Right Environmental Impact- and -Right Attitude- complete the set of rules. A minimum of 2.5 per cent of profits is donated to environmental institutions every year. Ren was founded by Robert Calcraft and Anthony Buck.