Wunder Wasser Men Men's fragrances by 4711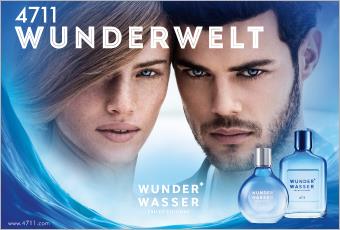 4711 is a German brand that has represented world-renowned and unique fragrances since 1792. The new Wunderwasser Men fragrance line, like all other creations, was produced in the traditional premises in the Cologne Glockengasse. The men's fragrances are familiarly resolute, masculine, and also immensely fresh. The therapeutic fragrance begins to develop on the body even after a short time, and wraps its wearer in a sublime robe. The unique recipe, which is representative of the 4711 brand, invigorates the mind and body - and has an exceptionally alluring effect!
The Wunderwasser for real men
The Wunderwasser Men scent is available, as usual, as Eau de Cologne, and is bottled in an azure blue flacon. The men's fragrance brand also includes some other products such as a matching deodorant spray, which effectively reduces perspiration in the underarms. A shower gel uses the identical perfume chords and gently cleanses, while the aftershave lotion effectively prevents unpleasant irritation from shaving. Great as a small gift for loved ones, the brand also features a two-part fragrance set.
Wunder Wasser Men by 4711