East Coast Club Men Men's fragrances by Tom Tailor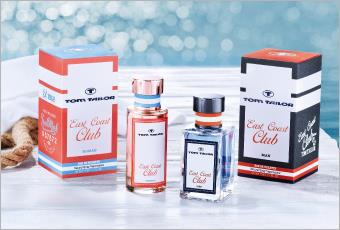 East Coast Club Men is a new product from Tom Tailor from 2013. The men's fragrances are reminiscent of far-stretching beaches, a relaxed sailing tour or a dreamy island holiday. The perfume from the range comes in a square shape with a red, white and blue cap. As well as the Eau de Toilette Spray, the fashion brand also offers another practical Gift Set which combines the perfume with the Shower Gel. The Shower Gel can be used for daily showering and also radiates that typical coast feeling .
A bit of ocean on your skin
The high seas have always had a particular attraction for men. The feeling of freedom and boundlessness is hard to find anywhere other than on the high sees, on the coast or on fine beaches. The Tom Tailor men's fragrances in the East Coast Club Men range skilfully take advantage of this atmosphere, by combining the scent of peach in the top notes with Sicilian lemons. The core of the fragrance uses suede, violas and lavender until reaching the base of light woods and tonka beans.