Moov Street Accessoires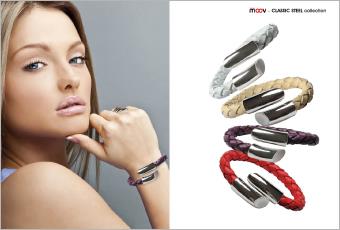 Moov Street is an international fashion jewellery brand which specialises in manufacturing colourful bracelets. Offered in many collections, the brand covers the whole range of contemporary bracelets and are equally suitable as casual companions in free time or elegant eye-catchers at special events. Steel bracelets from the Classic Collection bring timeless character and combine a fundamental metallic look with bright colours on the wrist.
Order bracelets by Moov Street for every occasion at attractive prices
With collections such as Wild or Paris, Moov Street offers particularly exquisite or ornate bracelets, the striking character of which emerges with colours such as red or purple. All of the articles from the different collections excite with their very soft feeling on the wrist and their long life, so that they can become a true companion with regular wear. It is worth looking at our assortment to get these creative and colourful bracelets at a reasonable price. From each of the collections by this brand, we offer a colourful choice of bracelets at unbeatable prices.
Accessoires of Moov Street