Men Skincare Men Skincare by Decléor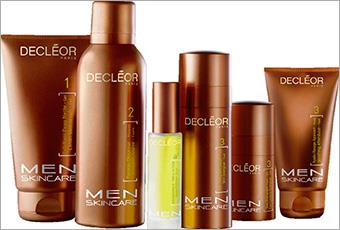 Men's skin can become very stressed through, in particular, the daily shaving routine. In order to treat skin irritation and small nicks correctly, Decléor developed a men's cosmetic series that is orientated towards the special requirements of the male skin and provides optimal protection. Men Skincare also provides the skin with freshness and moisture. Valuable ingredients such as essential oils and eucalyptus ensure a gentle care programme for a revitalised skin structure. The cosmetics line consists of six different beauty products so that the perfect product is available for every situation.
Men Skincare - gentle care for men
The Gel Soin Énergisant Yeux provides optimal care for the eye area. The product is absorbed quickly and gives sallow skin a fresh, healthy complexion. The gel also supplies the skin with moisture, preventing the build-up of wrinkles. For daily cleansing, Decléor offers the Gel Exfoliant Peau Nette, which not only leaves the skin feeling smoother but also softens beard hair. For the daily shaving routine, Decléor recommends its Mousse Rasage Douceur, which uses a gentle formula to remove excess sebum and sooth the skin. The Sérum Aromessence(TM) Triple Action is also a good choice for a gentle shave. The essential oils make the skin smooth and prepare it optimally for shaving. The range includes two further cosmetic products, which provide tailor-made protection for the skin.