Ideal Douceur Skin care by Carita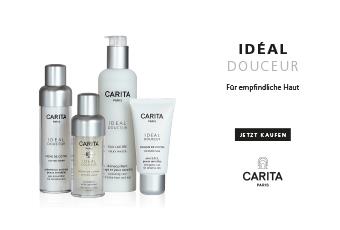 Gentle and soft skin is the dream of every woman, but unfortunately stress and environmental factors damage skin's aesthetic and pleasing look. With its Ideal Douceur product range, the international Carita brand is making an active contribution to ensuring every type of skin the highest level of softness thanks to a well co-ordinated care system. Known as a manufacturer of cosmetics and care products, the Parisian brand offers countless items, from mousses to quick-absorbing serums, which contribute to increasing skin's moisture and providing skin with plenty of vitamins and minerals.
Use Ideal Douceur for a new, gentle skin feeling
Carita's care products in the Ideal Douceur product series ranges from body lotions to soft face masks and, if used regularly will show significant differences compared to other care products. High-quality care complexes contribute to this and have been worked out by the Parisian cosmetics and care label over several years and have long been valued around the world. Customers in our Online Shop also have the opportunity to discover these complexes and discover other products ranges from the popular Carita brand with us. Of course, you can also add to your cosmetics collection with other brands or get your hands on a new, high-quality care product after making an online purchase.
Ideal Douceur by Carita