Perfumista Avenue Women's fragrances by Bond No. 9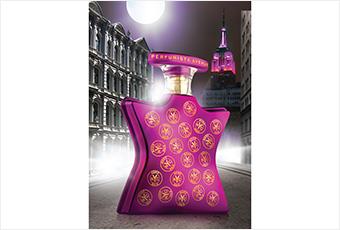 As a label based in the heart of Manhattan, Bond No. 9 has been exciting us for many years now with extraordinary fragrances in countless collections. With Perfumista Avenue, the New York brand is expanding its wide range of contemporary women's fragrances with a new edition, only available since 2013 and targeted at young female customers in particular. Artemesia, plum and nutmeg are just three of the many exceptional essences that this fragrance has to offer women, rounded off by rose water. As with many of the brand's women's fragrances, Perfumista Avenue highlights the strength and allure of a modern day woman.
With Bond No. 9 you can experience exciting women's fragrances online
A contemporary label, Bond No. 9 is always keeping an eye on the latest trends with its exciting fragrances, which have also long been delighting a vast European client base. In addition to Perfumista Avenue, our online shop therefore stocks a huge collection of other men's, women's and unisex fragrances to enable you to make the most informed and attractive choice, whatever the occasion. Naturally, you'll also find that we offer care products and cosmetics on top of fragrances, which are waiting to be purchased online at a particularly attractive price!
Perfumista Avenue by Bond No. 9