Dark Knight Men's fragrances by Batman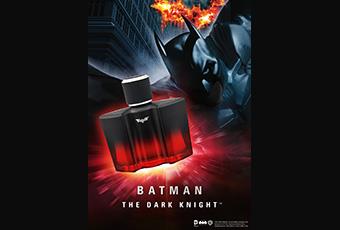 Men need a new calibre of fragrance – to roughly paraphrase the words of the Joker from the film. But as amazing the performances of the actors and characters in the film were, the batman fragrances blow them all away. In their stylish bottles, these men's fragrances created with the spectacular thriller in mind are the perfect gift idea for every man of the darkness, whether young or old.
Fragrances for the profound man
The exciting scent of the perfumes that were inspired by the events in the movies, captivate with their passionate fragrant notes. The aromatic, spicy Dark Knight Eau de Toilette reflects the passion, that bound Bruce Wayne to Rachel Dawes in the film, the youthful love that came to a tragic end because of the cruelty of the Joker in difficult time. The perfume's elegant, black bottle also fits the style of the Dark Knight perfectly, just like the fragrance with a top note of apple and plum, a middle note of patchouli and carnation, and a base note of leather, musk and amber.

No matter how hard a night he's had, the Dark Knight never leaves his Bat Cave without shaving. Confident fragrances guarantee the same masculine scents with the Dark Knight After Shave as with the eau de toilette. But whether aftershave or perfume, you simply cannot get closer to the legend of the Dark Knight than you can with these passionate men's scents.
Dark Knight by Batman