Oud Save The Queen by Atkinsons
The
Oud Save The Queen
perfume is a masterful fragrance creation by Atkinsons. The perfume co…
Learn more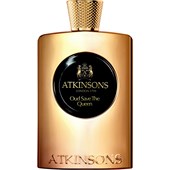 AtkinsonsOud Save The Queen Eau de Parfum Spray
BP: £146.95* / 100 ml
Oud Save The Queen The Oud Collection by Atkinsons
The Oud Save The Queen perfume is a masterful fragrance creation by Atkinsons. The perfume contains both flowery and Oriental aspects. The women's fragrance can be worn in every situation in life: Whether at professional, private or celebratory events. This fragrance allows modern woman to adopt a great deal of style and elegance. The fragrance created in 2014 is convincing due to its versatility and the strongly feminine traits which makes men's hearts beat faster.
A masterful fragrance collection from The Oud Collection
Oud Save The Queen from The Oud Collection is based on essences of bergamot, clove and green tea. Jasmine and orange blossom create a floral undertone that represents the feminine side of a woman. The floral elements of the perfume are interrupted by tonka beans, guiaca wood and agarwood and replaced by passionate aspects. Simply a unique masterpiece by the Atkinsons brand!