Oud Save The King by Atkinsons
As glamorous as the uppermost English house, adventure-friendly as the most remote parts of the Orie…
Learn more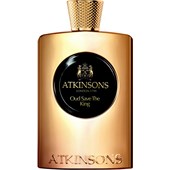 AtkinsonsOud Save The King Eau de Parfum Spray
BP: £146.95* / 100 ml
Oud Save The King The Oud Collection by Atkinsons
As glamorous as the uppermost English house, adventure-friendly as the most remote parts of the Orient and, at the same time, as enchanting as as fine cup of English tea can be: The Atkinsons Oud Save The King creation is the epitome of luxury. The series was created in the course of The Oud Collection and, as the name already suggests, uses the valuable oud. The Oriental accent is a perfect match for the delicate English accords and has its very own charisma - and not just due to the golden flacon!
Charismatic and extraordinary
The Atkinsons Oud Save The King perfume has very Oriental and spicy accords, which still retain a western note, due partially to the origin of the perfume. In addition to oud, the fragrance also uses fresh Earl Grey bergamot, zypriol and high-quality iris, to achieve a unique and - at the same time - vey adventurous note. The perfume in Atkinsons The Oud Collection ensures an attractive and interesting exchange between western, English customs and typical Oriental accents. This creation seems luxurious in every situation in life, however.