Eyes by Astor
The name of
Astor
is a guarantee for wonderful make-up distinguished by
intensity and ski… Learn more!
Eyes Make-up by Astor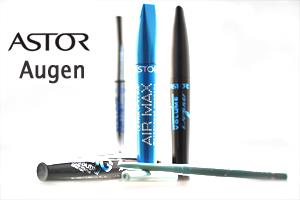 The name of Astor is a guarantee for wonderful make-up distinguished by intensity and skin tolerability . Top quality in all respects is the demand the brand, founded by the Blendax works in 1952, makes of itself. For that reason, the eye cosmetics offered by Astor are distinguished not only by first-class results, but also by waterproofness as well as a particularly easy handling. A long life of the individual cosmetics goes without saying as well.
Astor eye make-up
The eye cosmetics of the German brand include a large range of different products: pencils, mascara sticks and eyeliners are just as much a part of it as are eyeshadows or the appropriate make-up remover. The individual products are offered in numerous variations, to ensure you really do find exactly the right cosmetic to suit your taste. See for yourself now!