Royal Stars Looks by Alessandro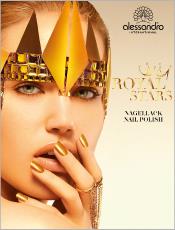 With the Alessandro brand's Royal Stars Looks online cosmetics line, you can benefit from a successful product range. Nowadays you can buy cosmetics online without issue: renowned brand manufacturers guarantee that their products are high quality and will win you round with their excellent combinations. What's particularly appealing about Royal Stars cosmetics products is their high quality, simple practicability and proven suitability for daily use. With these products you can achieve all kinds of looks: from eccentric to traditional.
For perfect looks and amazing results
Alessandro-brand products are appealing because they are incredibly easy to adapt and are of a high quality. If you're looking to but cosmetics online, you've come to the right place. Our extensive repertoire of products helps you to benefit from a hugely varied selection. The Royal Stars line includes numerous products that are heavily oriented towards metallic base colours. The majority of the colour scheme is based on gold nuances which in parts transcend into noble yellow gold or trendy gold-rosé. Sizable glitter flakes can be used to add fashionable accents.
High-quality top end products for everyday use
No matter what looks you want to create: with online cosmetics products from our shop you'll be able to make all your ideas a reality. Nail polish from our popular series is available is six different colours. These colours are especially suitable for festive occasions. No matter which product you want to choose from the range: with our extraordinary and exclusive ideas, you can benefit from an attractive and intensely colourful appearance. Let Alessandro's well-known and popular brand-name products win you round and benefit from products which are used worldwide by renowned hairdressers and make-up artists!
Royal Stars by Alessandro