No.1 by Alcina
The high-quality No.1 haircare system from Alcina is an uncomplicated line of care products for colo…
Learn more
No.1 Hair care by Alcina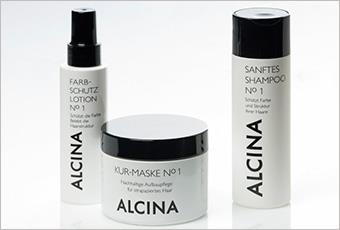 The high-quality No.1 haircare system from Alcina is an uncomplicated line of care products for coloured hair. The system offers damaged, coloured and tinted hair gentle cleansing, effective protection and long-lasting regenerative care. With fine, natural ingredients such as oat extract, sunflower seed extract, grapeseed oil and the active ingredient panthenol, Alcina N°1 care products ensure long-lasting care for healthy hair, more radiance and a smooth, shiny and resilient surface on the hair. And your scalp is not forgotten: The care products will also nourish and protect the scalp.
Haircare Alcina N°1 - specifically designed for coloured hair
Stressed and damaged coloured hair will be made healthy, strong and beautiful again with the Alcina N°1 haircare product range. The mild N°1 nourishing shampoocleanses the hair gently. It maintains and protects the hair colour and the structure of coloured hair lastingly and smooths the surface of damaged hair. At the same time, your scalp is nourished and protected. The hair appears healthier and is more resilient and strong.

The following products are the perfect complement for an all-round care programme for coloured hair: The "N°1 Colour Protect Lotion" soaks quickly into the hair and provides smoothness and intensive colour protection. The "N°1 Treatment Mask" regenerates badly damaged coloured hair through its rich active ingredients. It also has a nourishing and protective effect, and gives the hair a natural colour intensity and radiance.

The hair can be damaged through colouring. With the products from the Alcina N°1 haircare range, they will be purposefully healthy again and nourished, whilst the intensity and radiance of your hair colour will be boosted.