Moisturising & volume by Alcina
The Alcina moisturising and volume care products are enriched with moisturising ingredients and are …
Learn more
Moisturising & volume Hair care by Alcina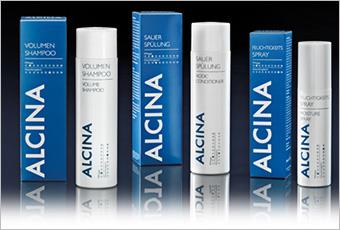 The Alcina moisturising and volume care products are enriched with moisturising ingredients and are especially suitable for dry and damaged hair. With these professional haircare products you will give your hair new vitality, with fantastic shine and more elasticity. The Moisturising and Volume series from Alcina Professional includes several care products designed to work together. Treat your hair with these rich care products and experience the moisturising effects from the very first time you use them. The care products are recommended for the revitalisation of tired hair and also protect from outside elements. You'll notice the improvement in the combability and manageability of your hair with regular use of the haircare products. Treat your hair to this exclusive care range and refresh dry hair with the moisturising and volume care products.
Healthy, shiny hair the way you want it
With the Alcina moisturising haircare products, your hair will be smoother and glossier. The moisturising spray with a light protection filter and panthenol is highly recommended for speedy haircare on the go. It will refresh long and delicate hair, leaving it easier to comb. For daily washing of the hair, the haircare series also offers a volume shampoo for fine hair. It supports the hair structure and contains volumising polymers that provide the hair with more volume and elasticity. Oat proteins and panthenol provide the hair with amazing volume without weighing it down with the nourishing formula. After shampooing, the acid rinse von Alcina provides for a glossy and resilient hair surface.