Colour care by Alcina
The colour care series from Alcina has been specially developed for coloured hair and offers a wide …
Learn more
Colour care Hair care by Alcina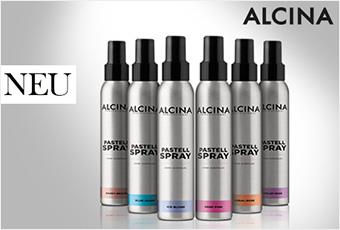 The colour care series from Alcina has been specially developed for coloured hair and offers a wide range of products for daily use. With their high-quality colour-protect complexes, these haircare products will make your hair shine, giving your style new radiance. The products in the Alcina Professional range also contain a light protection filter, protecting the hair from UV rays and maintaining your colour for longer. Shine boosters ensure that your hair gleams. The care series also includes shampoos for coloured hair as well as rich care products and a curl emulsion. The colour care line is recommended for the whole bandwidth of colouring and helps maintain smoothness and colour brilliance for as long as possible.
Optimal haircare for coloured hair: discover colour care from Alcina
If you colour your hair to match the latest trends or use products to cover up greys, using a specially designed care product is important. Coloured hair has a higher level of care needs and this is exactly what the haircare range from Alcina Professional is designed to provide. The colour care shampoo regenerates the hair structure and repairs hair damage caused by colouration. The combination of active ingredients also leaves your hair easier to comb and provides intensive shine. The colour care mousse refreshes the radiance of your hair colour. This haircare product brings suppleness back to the hair and is simply applied to the hair directly after washing. The series also includes a hair-end fluid, which prevents splitting and brings long-lasting smoothness to the tips of your hair. For intensive repair of damaged hair, the strengthening shampoo with care factor 2 is highly recommended.