Team Five Men's fragrances by Adidas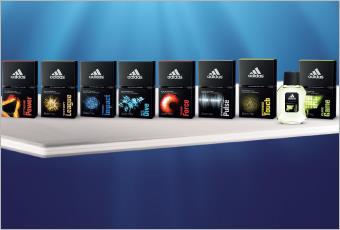 Team Five is an exciting perfume for real team players, which Adidas offers in numerous individual products and enriches men's daily hygiene with an exciting fragrance. As with all its men's fragrances, Adidas not only offers this product range as a classic perfume, instead great incentives to entice men of all generations into the bathroom are waiting in the shape of shower gels and other items. Team Five embodies freshness and a particularly active attitude to life that can be experienced with many products of the established sport item manufacturer.
Order sporty fresh men's fragrances by Adidas online
If you as a woman love the men's fragrances of the brand, simply treat your husband or partner to the Team Five Edition Gift Set. Many incentives of the popular brand are waiting in our assortment, which range from perfume to cleansing products and are regularly supplemented by new editions. Of course, our shop also carries many product series for women who prefer a just as active way of life. Take a good look at our assortment and snap up perfumes and care products at a particularly attractive purchase price!