13 Note Femme Women's fragrances by Absolument absinthe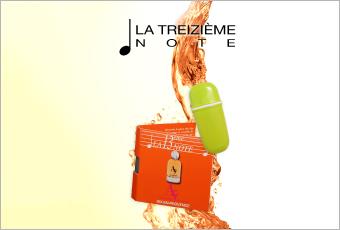 Absolument absinthe has been one of the absolute on-trend brands to come out of Paris for more than a decade now, picking up on the unusual aroma of absinthe and available as men's and women's fragrances in a variety of forms. In the 13th Note Femme version, the French brand creates its unique perfume in a particularly feminine and fresh way, with a tangy character that's just asking to be applied regularly. The variety of ingredients provides for contrasts between base and top notes and gives you a perfume experience you can savour over and over again.
Experience top quality women's fragrances based on absinthe
Supplied in a transparent and stylish flagon, Absolument absinthe with 13th Note Femme is a true asset that will enhance any bathroom. Even the subtle application of a few drops is sufficient to immerse the wearer into the magic of the absinthe parties of Paris and enjoy an extraordinary essence bottled as a contemporary perfume. Of course, Absolument absinthe supplies other women's fragrances with a leading note of absinthe which can be ordered from us at an affordable price. So discover 13th Note Femme and the rest of the range on the internet and immerse yourself daily in the upmarket aura of a Parisian perfume!
13 Note Femme by Absolument absinthe