13 Note Homme Men's fragrances by Absolument absinthe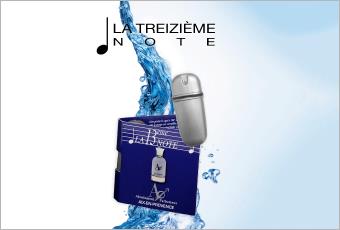 With 13th Note Homme, the Parisian perfume house, Absolument absinthe, offers one of its leading fragrance lines for men who are looking for unusual essences in their daily fragrance. With absinthe as the main note, all men's fragrances by Absolument absinthe lend a unique charm - a charm that the company has now supplied for women and men for over a decade. For a long time, absinthe was shunned due to its supposedly intoxicating effect. However, this particular aspect has been refuted and it now gives 13th Note Homme its exclusive character.
Rediscover absinthe with heady men's fragrances
In 13th Note Homme, Absolument absinthe combines the distinctive fragrance of absinthe with other spicy and fresh ingredients that modern men appreciate. Not only does this perfume for men have an irresistibly heady combination of these essences, it also comes in an attractive flagon as a decorative addition to the bathroom. Men's fragrances from this Parisian label are ideal for all men who love perfume with a note of exclusivity and want to experience absinthe in one of its most unusual forms. We're delighted to make these exclusive perfumes affordable for you online through our attractive terms and conditions.
13 Note Homme by Absolument absinthe